It all started when my parents took us on a cross-country road trip when I was the tender age of eight. That jump started domestic travel, adding up to 46 States visited, and sparked the travel bug that continues in my personal and professional life. 52 countries later, I'm looking for new adventures and see new places. Not really for counting countries, but for collecting memories with my favorite travel partners.
Just recently, I laid some roots and bought a place in Philadelphia. While I still travel the world for work, it's been a nice grounding in a city that I neighbored my whole childhood.
Over the last five years, I've been a go-to consultant in travel public relations and marketing. Chapter Leader of Travel Massive Beirut and Travel Massive NYC. A newly minted Travel Advisor with Avenue Two Travel, a luxury Virtuoso Agency in Philadelphia.
I always like connecting with people, so drop me a line at jessica@tripwhisperer.nyc or let me help plan your next adventure!
Let's help you grow your own travel map 🗺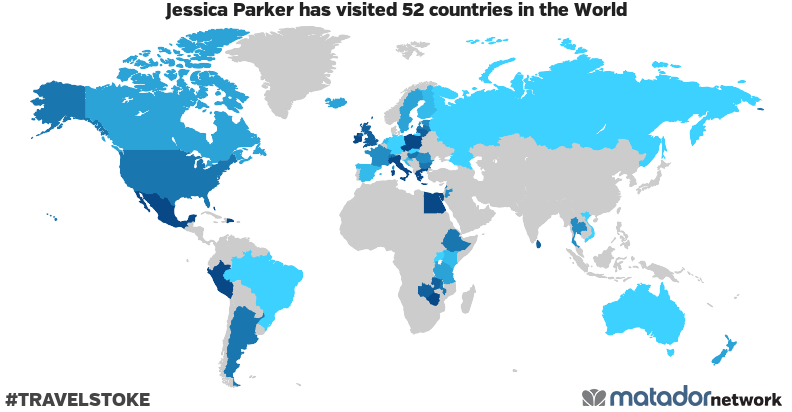 Jessica Parker has been to: Andorra, Argentina, Australia, Bulgaria, Brazil, Bahamas, Canada, Switzerland, Czech Republic, Germany, Dominican Republic, Estonia, Egypt, Spain, Ethiopia, Finland, France, United Kingdom, Greece, Croatia, Hungary, Ireland, Iceland, Italy, Jordan, Kenya, Cayman Islands, Lebanon, Sri Lanka, Lithuania, Latvia, Monaco, Maldives, Malawi, Mexico, Netherlands, New Zealand, Peru, Poland, Romania, Russia, Sweden, Singapore, Slovakia, Thailand, Tanzania, Uganda, United States, Vatican, Vietnam, Zambia, Zimbabwe.
Get your own travel map from Matador Network.